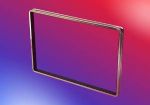 Chromatech Ultra, Glass Alliance
Chromatech Ultra is the exclusive hybrid spacer bar for high-performance insulating glass units made of 0.1 mm thick stainless steel reinforced with ribbing and a special plastic top.
Produced by Alu-Pro and Rolltech and marketed worldwide by the Glass Alliance network, which both companies are members of along with the Fenzi Group, this innovative spacer bar uses warm edge technology.
Benefits of warm edge technology
Warm edge technology, and Chromatech Ultra in particular, significantly reduces the thermal bridge in insulating glass units.
This minimizes condensation on the window and prevents condensation damage to the frame, while further reducing the system's heat loss (U-value) by 0.1-0.2 W/m2K.
These features are essential for meeting the new energy-saving needs of today's offices and residences.
Workability
Chromatech Ultra also offers outstanding workability, being remarkably easy to bend using standard tools without compromising quality or durability, coupled with excellent rigidity.
The special plastic mixtures used for the upper surface make the spacer bar extremely hard and cold-resistant, making it virtually impossible to scrape the corners and therefore resulting in greater stability. This enables the production of perfectly shaped rectangular frames which ensure a maximum seal on the window.
Supply
Chromatech Ultra is available in the following RAL colors: 7035 (light grey), 7040 (dark grey), 8003 (light brown), 8016 (dark brown), 9004 (black) and 9016 (white).